Acadmic year 2005-2006
HAVE YOU SEEN THIS SHEEP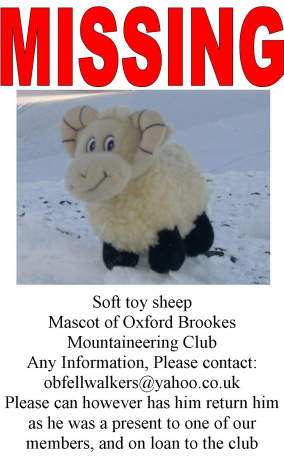 Our Club mascot, Minty the Sheep has disappeared while at the Sports Fair, suspicions are that he has been stolen. Please can everyone keep an eye out for him as he is only on loan to the club as he was actually a thank you present to Adders a few years ago. If anyone knows anything about this please contact the club on the address above. We are willing to grant an amnisty for him being handed in to either us or the sport centre reception for the fellwalking club.
---
A word from our President
Hi everyone
This year we have had a fantastic response to the club and a lot of keen new members have joined, with that in mind, this looks like being a fantastic year. It is a year of several changes as this is the first year that we have been affiliated with the Students Union and we have had several changes to the committee. I would invite everyone to join us at the first meeting on Thursday and meet us all and get to know what we have planned. None of our plans are set in stone, and therefore we welcome suggestions.
Hope to see everyone there
Adders
President
---
FIRST LAKE DISTRICT TRIP (Week 3)
The first Lake District trip will run from Friday 14 th - Sunday 16 th October. The total cost to you will be around £30 + £10 insurance (for the Semester) (Climbing club membership covers this). This will cover transport, accommodation, food and alcohol. However, its a good idea to bring some money with you for service station stops / pub / more alcohol etc. You will need to bring your own equipment along. Please check the list out here:
http://www.obmountaineering-memories.co.uk/equipment.html
We will be leaving Oxford on Friday evening and reach the Lake District around midnight. On Saturday, we will have an early start and hike up Scafell Pike, the tallest mountain in the Lakes, standing at 978 metres. On Sunday, we will be taking on Skiddaw. Amy's slightly fuzzy pictures of the first Lakes trip last year can be found here:
http://www.obmountaineering-memories.co.uk/image%20galleries/amy/Thumbnails.html
---